What percentage should you take from your pension pots when you retire?
This is one of the most common questions people ask when they first find out about pension freedoms: what is the right percentage to withdraw from your pension pots? How can you make sure you withdraw enough each year to live on without running out of money? What percentage will make sure this happens?
Different magic numbers, or rules of thumb, are given all the time in money pages and the financial press. Reports are issued each year giving stats on the percentages people are taking, with the magic number ranging from 3%, to 4%, to even 6%.
It's tempting to use simple numbers, but the truth is: there is no magic number. In fact, the "magic number" seems to do more harm than good, as it rarely works on an individual basis. Below, we show you how to think differently about this and achieve the best retirement outcome for you.
Pension freedoms mean a flexible income!
If your pension pot makes a 4% return (after charges) and you withdraw 4% every year, then you will never run out of money and your pots will remain broadly the same size. Although that sounds great, it doesn't exactly offer you the best retirement outcome. That's because you could have taken a larger income without running out, and taken advantage of a more flexible retirement income. At the end of the day, isn't that what pension freedoms are all about?
How can we achieve a better outcome?
Put simply, you can't know the best amount to withdraw until you have a plan. There is just no way to get the best outcome without calculating this plan.
Building a plan is the first step everyone should take before considering how to use the pension freedoms when they retire. What should my plan tell me?
Any plan will be specific to you and you alone, but the main three main parts will be:
What type of lifestyle do I want in retirement, and hence, how much will I need to live the way I want?
What else do I have each year to put towards my retirement income?
How much of my pots do I want to use: everything? Or would I like to pass some on if possible?
Once you know the answer to these three questions, a plan will show you exactly how much to withdraw every year from your pots to achieve your ideal retirement income if everything goes as expected.
In addition to your pension pots, you'll probably also have other income such as a salary from part time work or your state pension. What you take from your pension pots should plug the gap each year between this income and your ideal retirement income.
An example plan
Here is a very simple example: Imagine you want a flat income after tax of £20,000 a year (the dotted line). Assuming you have a state pension (in yellow) which will start a few years after you retire, you need to take an amount (in blue) from your pension pots to give you the £20,000 each year. In the early years, this will be a higher percentage of your pots. In the later years, you'll need much less. As you can see, there is no way to figure this out without building a plan at outset.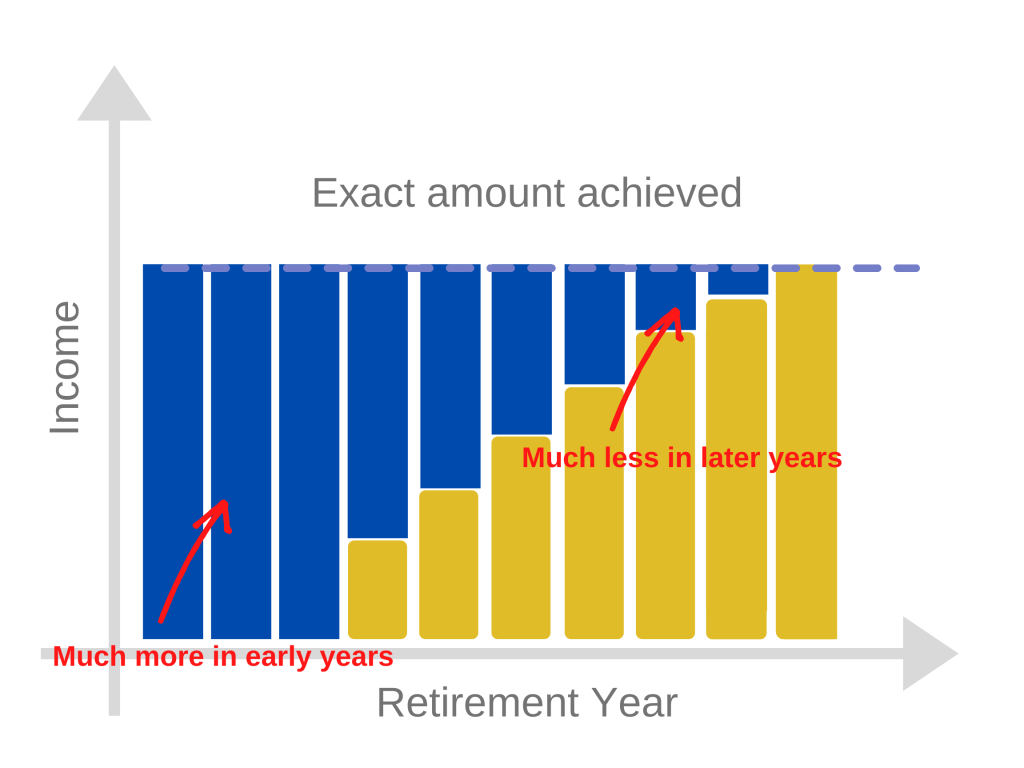 How do I build a plan?
Anyone taking independent financial advice on planning for retirement in the UK should have a plan built for them by their adviser. This will come along with advice on which pension provider is best for them and how to invest their money depending on the amount of risk they are comfortable with.

The best option is to take professional financial advice. But the problem is that very few people take advice, mainly because it doesn't come cheap.

If you aren't going to pay for professional advice, how can you build a plan on your own? That's exactly why we built Guiide: to help all those who don't take advice achieve the best retirement outcome possible.
We believe we are the only completely free site that allows people to build a retirement plan on their own and track it over time. Guiide is simple to use, completely free and also helps you save money on tax and charges!